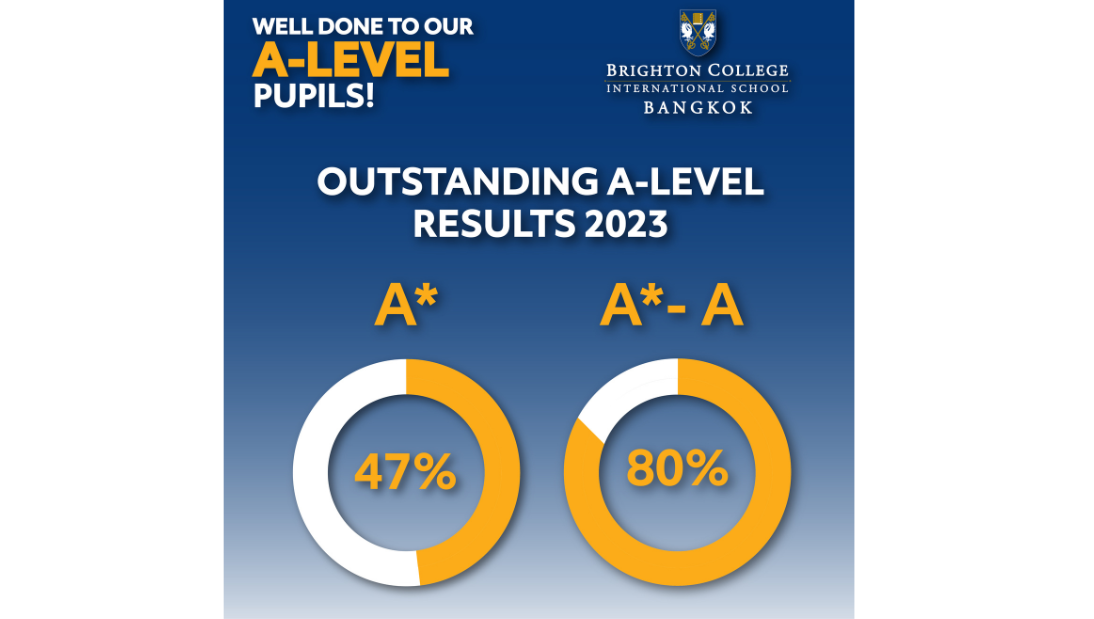 Brighton College Bangkok pupils have delivered another outstanding set of results! We are so proud of the efforts of pupils and staff in achieving results this year. An outstanding 47% of all grades awarded are at A* and 80% are at A-A* (up from 67% last year). These results reflect the immense hard work and dedication of all of our pupils and staff.
What also stands out within these results is the incredible levels of pupil progress. Value added scores indicate that on average, pupils achieved 1.7 grades higher in every subject than their personal baseline targets indicated, with one pupil exceeding 4 grades improvement in every one of their subjects. It is a great testament to the inspiration of our teachers and the motivation of our pupils.
Another great achievement is that every one of our Year 13 pupils were accepted into their first choice university - many of these are among the most selective universities in the world. Pupils leave us to study subjects as diverse as Law, Medicine, Architecture, and Computer Science, many with scholarships attached.
Well done to all of our fantastic Year 13s!
ขอแสดงความยินดีกับนักเรียนโรงเรียนไบรท์ตัน คอลเลจ กรุงเทพฯ ที่ทำผลงานได้ดีเยี่ยมอีกครั้ง!
ทางโรงเรียนฯ มีความภูมิใจในความพยายามทางด้านวิชาการของนักเรียนและครูเป็นอย่างมาก สำหรับการประกาศผลสอบ A level นักเรียนของเราได้ผลสอบ A* 47% และ A-A* 80% (เพิ่มขึ้น 67% จากปีที่แล้ว) สะท้อนให้เห็นถึงการทำงานอย่างหนักและความทุ่มเทอย่างมากของนักเรียนและครูทุกคน
นักเรียนได้คะแนนเฉลี่ยสูงขึ้น 1.7 คะแนน ในทุกวิชาเมื่อเทียบจากคะแนนพื้นฐานที่เคยบันทึกไว้ หนึ่งในนักเรียนมีคะแนนดีขึ้นเกิน 4 คะแนน ในทุกวิชา เป็นข้อพิสูจน์ถึงมาตราฐานการศึกษาที่ดี การทุ่มเทของครูและความพยายามของนักเรียน
ความสำเร็จที่ยิ่งใหญ่อีกประการหนึ่งคือนักเรียน Year 13 ของเราทุกคนได้รับการตอบรับเข้าศึกษาในมหาวิทยาลัยที่เลือกเป็นอันดับแรก ซึ่งเป็นมหาวิทยาลัยที่มีชื่อเสียงมากที่สุดในโลกของคณะต่างๆ เช่น คณะกฎหมาย คณะแพทยศาสตร์ คณะสถาปัตยกรรมศาสตร์ และคณะวิทยาการคอมพิวเตอร์ ทั้งนี้มหาวิทยาลัยอีกหลายแห่งได้เสนอทุนการศึกษาให้แก่นักเรียนของเราอีกด้วย
นักเรียน Year 13 ทุกคนทำได้ยอดเยี่ยมมาก!
#BrightonCollegeBangkok #internationalschool #britishcurriculum #Alevel #results #school #academy #teaching